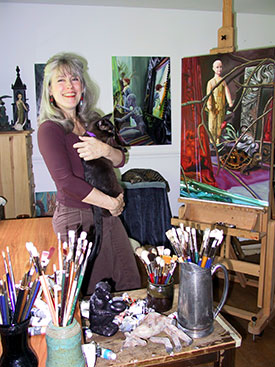 Artist, Marianne Sexton was born in Austin, Texas into a family that included not only other artists, but nature enthusiasts as well. Having a mother that was a talented artist gave Marianne the opportunity to observe the creative process at an early age and sparked in her a desire to pursue her own artistic expression. The artist sold her first painting at the age of thirteen.
In addition to raising two children, the artist pursued several career paths including architectural drafting and owning and operating a small business. Throughout the years, Marianne continued to self teach painting and drawing and always managed to find an outlet for her creativity. She has mastered batik, taught herself faux finishing techniques, designed and produced a line of hand-painted clothing, and continues to design and produce an outdoor Halloween installation annually known to many Austinites as the "Haunted Slough".
In 1998, realizing she wanted to become a fulltime artist, Marianne decided to refocus her artistic efforts into the medium she loves the most - oil painting. She began taking classes at Laguna Gloria and Austin Community College to build on her painting and drawing skills. The artist was awarded "Best of Show" in the 2002 Student Exhibition at ACC and was awarded 1st Place in the Printmaking division in both the 2004 and 2005 Student Exhibitions at ACC.
The artist currently resides in Austin's Shoalwood neighborhood with her partner Joe and their five cats.
Marianne's painting and lithographs can be found in the Austin Community College permanent collection and in private collections.
As a child I had a collection of devotional cards depicting various Catholic saints and icons. These miniature versions of artwork and the larger than life religious sculptures in our church were mysterious and powerful to me…as if they were in some way alive. This infatuation with religious imagery was matched by an equal fascination with the natural world and the art of the surrealists. The combination of these elements filled my mind with haunting images of landscapes and secret worlds where the inanimate became animate.
This position combined with a longtime interest in the use of symbolism and metaphor in painting informs my still lifes. By using figures and objects that convey a particular significance to me, or that come already loaded with their own definition in the collective unconscious, I create a narrative that provides a window into those secret worlds of my imagination.
There are aspects of the human condition – life, death, struggle and triumph that resemble elements of the natural world surrounding us. These similarities are referenced through the incorporation of natural objects into my tableaus. The trunks of an English ivy twining around itself and then parting, only to meet itself again, can parallel the rhythms of personal relationships in our lives. In the same way that a butterfly emerges from its cocoon, or a cicada wrestles itself from its shell after a seven year slumber, we can experience metamorphosis through the passage of time and the surmounting of life's struggles.
Miniatures, Austin Galleries, Austin, Texas, August 2007

Arte Sagrado, National Juried Exhibitions of
Contemporary Sacred Art, The Gallery @ Concordia, Concordia University, Austin, Texas, April 2005

2005 Student Exhibition, Austin Community College, Julie C. Butridge Gallery, Austin, Texas, April 2005 - Awarded First Place and a Purchase Award in Printmaking / Photography Division

2004 Student Exhibition, Austin Community College, Julie C. Butridge Gallery, Austin, Texas, April 2004 - Awarded First Place and a Purchase Award in Printmaking / Photography Division

Birds, Fifth Annual Fall Juried Exhibition, Louise T. Peter Center, Concordia University, Austin, Texas, April 2003

2002 Student Exhibition, Austin Community College, Julie C. Butridge Gallery, Austin, Texas, April 2002 - Awarded Best of Show and a Purchase Award
Gallery representation:
Austin Galleries
1219 W. 6th St.
Austin, TX 78703
512.495.9363
info@austingalleries.com
Contact the artist:
info@mariannesexton.com
512.454.1464